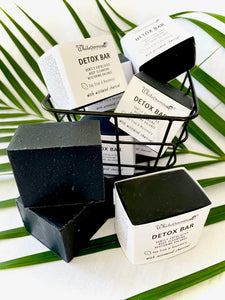 Almond Milk Charcoal Facial Soap Tea Tree & Rosemary
Almond Milk Charcoal Facial Soap Tea Tree & Rosemary

Almond Milk Charcoal Soap was formulated for normal to combination skin types. Not too dry and not too oily. Earning its reputation for skin loving ingredients, including proteins, minerals, zinc, calcium, vitamins and magnesium. Made from plant-based sources, and appealing to all skin types, but known to be most beneficial for balancing oily and acne prone skin, gently loosening particles with its lightly exfoliating texture.

Handmade Almond milk, made with hydrating water and almonds has a creamy consistency, its smooth light and refreshing when added to handcrafted soap. Our recipe begins with butters and quality oils of mango, coconut, shea and tucuma along with luxury oils of hemp, avocado and sunflower. Activated charcoal in natural soap along with essential oils of tea tree and rosemary may just be one of your daily favorites for washing your face and body.

The detoxifying qualities of activated charcoal begin with carbon-rich materials like wood, coal, coconut shells and heat. The word detox in personal care has taken a front seat now of days even dating back hundreds of years before us. The superfine powder of activated charcoal has been used topically by binding dead skin cells, bacteria and dirt that may be on the surface of the skin. The absorbing properties are considered helpful in removing excess oils and impurities allowing them to rinse away.

Neutralize daily environmental toxins by washing you face with charcoal soap up to three times a week with warm water avoiding eyes and mouth. Lather and gently cleanse your face in circular strokes concentrating on the T- zone as well as troubling areas where acne is present. Rinse clean with cool water to seal pores. Pat your face dry with a clean towel. Finish with pore minimizing toner or water-based moisturizer for your skin type.

For cleansing your body, follow the steps above focusing on drawing out dirt and dead skin cells from knees, elbows, groin area, neck and armpits. Scrub for 2-3 minutes to rid of dirt and oils. Rinse with cool water. Charcoal soap gently reveals smooth, young looking glowing skin.

Listing is for 1 bar soap
Net wt. 4.5 oz. Height 2" width 2.25" depth 1.5"

Ingredients: Coconut Oil (Cocos Nucifera), Distilled water, Mango Butter (Mangifera Indica), Shea Butter (Butyrospermum Parkii), Olive Oil (Olea europaea L.), Almonds (Prunus dulcis), Avocado Oil (Persea Americana), Sodium Hydroxide, Sunflower Oil (Helianthus annuus), Castor Oil (Ricinus Communis Seed Oil), Tucuma Butter (Astrocaryum), Hemp Seed Oil Refined (Cannabis Sativa), Activated Charcoal (Carbo activates), Sodium Lactate (Propanoic acid, 2-hydroxy-, monosodium salt), Bentonite Clay, Tea Tree, Rosemary Essential Oil

DISCLOSURE
This content is for informational purposes based on collected study and extended self-testing. White Dormouse Artisan Soaps believes in the nutritional benefits of the ingredients added to create all bath and body products for skincare. We strive to create a more natural, milder and healthier way to care for our skin. Therefore, each ingredient has been fully researched and has been used in alternative remedies for generations. This information has not been evaluated by the Food and Drug Administration. The benefits and use of herbs, oils, and natural ingredients are not meant to substitute the advice of your Doctor or health professional nor are they intended to be construed as medical advice to diagnose, treat, cure health problems or diseases. If you are pregnant or nursing, please consult your physician before using any products including those with essential oils. If you have an allergic reaction or are sensitive to the ingredients in our products, please discontinue use. White Dormouse Artisan Soaps extends our product description on our website and platform including ingredients for your health, safety happiness.

DIRECTIONS FOR SOAP USE
Soap Directions: Keep handcrafted artisan soaps in a dry, ventilated area when not in use. This will create an ideal environment allowing your soaps to last longer. With each use, rest on a slotted soap dish to allow for drainage and a longer lasting bar.

WARNING
White Dormouse Artisan Soaps are created to appear not only elegant, fun and foodie, but also NOT TO BE INGESTED. KEEP AWAY FROM SMALL CHILDREN UNSUPERVISED AS ANYONE MAY BE TEMPTED TO TASTE. ALWAYS TEST ON A SMALL AREA OF THE SKIN BEFORE USE.