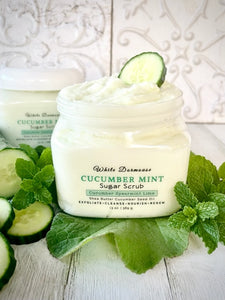 Cucumber Mint Sugar Scrub
Cucumber Mint Sugar Scrub
Move over rough dry skin and embrace the spring season to prepare for that new sundress you've been waiting to wear. Exfoliate gently making room for softer, silky looking skin with a glowing appearance.
Create a shower routine with the gentle cleansing of oil infused sugar with emulsifying properties, allowing the luxurious oils to form a lotion like texture on the skin for easy glide and creamy absorbency during exfoliation. Rinses off smooth without the oily or slippery residue.
Dedicated to ingredients the earth already provides starting with the granules of sugarcane and fruit-based oils. Butters of cocoa and tucuma, shea and coconut oil. Camellia, avocado, peach and cucumber seed, oil with the natural assistance of cucumber aroma. Non greasy, easily absorbed.
For use on body, hands, shoulders, back, knees and feet Not recommended for face, lips or sensitive areas of the skin and body. Ready for a spray tan? Exfoliate with sugar scrub 48 hours before application creating a clean slate and closing pores.
Directions: Use in the shower as a wash-off product. A little goes a long way. Spoon a palm size amount of sugar scrub into your hand, washcloth or exfoliating glove, activate the sugar scrub with comfortably warm water, messaging into wet skin with light pressure creating a lotion-like lather, unlocking the cucumber-mint aroma that's bright, clean, fresh and long lasting. Allow to sit on the body for a few minutes to allow the oils to sink into the skin absorbing all the nutrients. Rinse off to a smooth happier looking skin that's ready to shine.
Cruelty-Free and Vegan-friendly, Paraben, alcohol, non-GMO and phthalate-Free. Ingredients suited for use in all natural and gentle formulations.
Listing is for (13 oz.) sugar scrub
Net wt. 16 oz. Length 3.6" width 3.6" height 2.9
Ingredients: Sugar (Sucrose), Avocado Oil (Persea Americana), Peach Kernel Oil (Prunus Persica Kernel Oil), Cucumber Seed Oil (Cucumis Sativus seed oil), Camellia Seed Oil (Camellia oleifera), Behentrimonium methosulfate (and) Cetyl alcohol (and) Butylene glycol, (Cetearyl Alcohol, Ceteareth 20), Steric Acid, Shea Butter (Butyrospermum Parkii), Coconut Oil (Cocos Nucifera), Cocoa Butter (Theobroma Cacao), Tucuma Seed Butter (Astrocaryum), Fragrance, Essential Oils, Optiphen (Phenoxyethanol and Caprylyl Glycol), Vitamin E Oil (Tocopheryl Acetate), Polysorbate 80 (sorbitan monooleate), Titanium Dioxide, Mica, Chromium Oxide Green