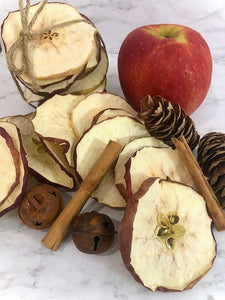 Dried Baked Apple Slices
Dried Baked Apple Slices

Beautifully dried Apple slices. Perfect for fillers in Potpourri. Set a large handful and place in a glass bowl for home decor in just about any location of the house.
Not only are they colorful and decorative, but inspire baking and fall festivities. Create a dried Apple and cinnamon stick swag with dried cranberry, dried oranges and bay leaves for the holiday season or any day decor. Decorate the dining table with the different varieties of dried Apples and citrus colors, shapes and sizes adding twine, fresh greenery sprigs and pine cones around your table setting. Use for packaging with green ribbon or hemp twine. Add other dried produce with dried Apples for a centerpiece.
Make your home smell like the holiday with a DIY recipe for simmering dried apples, dried oranges, cinnamon sticks, clove, star anise, bay leaves, apple juice, vanilla, and nutmeg.

Gifts handmade with love from natural ingredients.

Listing is for 20 Apple slices per package. Apple color tone and size may vary depending on the slice. Pine cones, cinnamon and bells NOT INCLUDED
Naturally scented, Non-Edible

All items created by White Dormouse Artisan Soaps come from a CLEAN, ORGANIZED AND SMOKE FREE environment.

It has always been my pleasure to hand bake dried fruit and vegetables in the oven. I adore the rustic appearance and decorate the home all year round.

There are many customers that have requested a brighter color in their dried fruit and vegetable products, but depending on the citrus and natural sugar content of the fruit, many of the dried items will darken over time.

I decided to dehydrate the fruits and vegetables which has contributed beautifully in retaining the natural color to an extent. All dried fruits and vegetables are non-edible. They are for crafting and decorating purposes including soap making and flower arrangement inserts.

As a SAFETY PRECAUTION careful preparation has been taken into consideration from hand and surface sanitizing, to washing the skin of the fruit, soaking the fruit slices in lemon juice, to the sterilization of utensils, bowls, cutting boards, dehydrator racks and dehydrator machine.

All fruits and vegetables are hand picked and any produce that doesn't pass the inspection upon purchase and during slicing, is not used to dehydrate or bake in the oven nor is it sold to customers.

Dehydrated and oven baked fruit and vegetables are heated for hours at a time to make sure the texture is dry. The items are sold and packaged in a craft box, but recommended they be removed from the box upon purchase to sit in the open air where they will continue to dry over time. They make perfect décor and I'm sure anyone would be proud to display them.