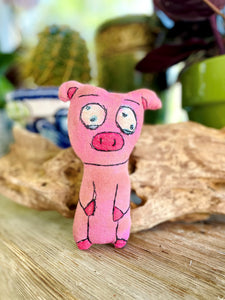 Grungy Primitive Pig
Grungy Primitive Pig

Handmade primitive Grungy Pigs are made with muslin fabric. One of the oldest woven fabrics made of cotton or cotton blend. Durable with a sturdy texture and absorbent fiber. The pattern was hand drawn, cut and placed on the fabric which is then sewn and filled, hand painted and aged with the natural color of coffee, and autumn spices of cinnamon and cloves.

The fragrance of the coffee staining is so delightful. The finished texture of the grungy pig has been outlined with black thread, has rich, antique pink, red and blue variations of staining with some areas lighter and darker creating a primitive, grunge appearance.

Adding primitive items to your home décor is one of the most popular and inspirational ways to accessorize your home. Americana and Folk Art design incorporate somewhat of a country style, with patriotic flair. Complimenting the classic farmhouse with a touch of muted aesthetics and rustic appeal. Primitive heritage features handmade and home-grown elements derived from natural materials. Vintage history with industrial fabrics, cotton and burlap, tin stars, bells and twine, faded and worn, functional and simple.

I have always been fascinated and yet extremely comforted by the primitive lifestyles of the 1800's One might say it was a simpler time in history. I beg to differ as the days and nights were filled with uncertainty, adventure and survival.

For some reason, many are drawn to recreating some of the most valuable items that were much needed in primitive living. Homesteaders crafted almost everything by themselves. They managed to thrive even though the elements of daily life were limited.

Pioneers paved the way from generation to generation, from grandfather to son, from mother to daughter and I'm so grateful for their teachings. We are eager to learn about how infusing herbs and flowers still to this day manage to afford us a more natural solution to medicines that assist in the relief of what ails us.

We are capable of hand crafting our own candles, handmade soap, jewelry, rugs, blankets, hats, scarves, furniture and home decor. We build our own barns, fences, run our farms with fresh eggs and vegetables that bring us right back to family, good food, living off the land of what the earth already provides.

Folk art, quilts, gingham, farmhouse and antique are all worn-well and loved. These grungy pigs were so fun to sew and are now a part of our Primitive Home. I hope you enjoy them.

Listing is for 1 grungy pig
Height 6" width 3.5"

All items created by White Dormouse Artisan Soaps come from a CLEAN, SMOKE and PET FREE environment. Polyester fiber stuffing. Painted with non-toxic, fabric crafting paint. Natural staining.

***Please note: The color of the product displayed on your computer monitor can also contribute to variations. This product is handmade and hand painted. Each pig will be slightly different in shades of color.