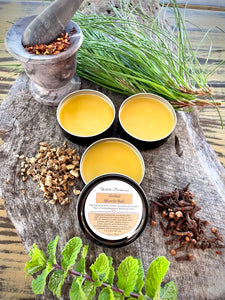 Herbal Muscle Rub
Herbal Muscle Rub

Connecting with natural resources the earth already provides to comfort and restore is a fascinating thing. Caring for our skin can often set us back and slow us down. Reaching for an herbal rub might be a great place to start with enriching natural ingredients from the ground up.

We invite you to come along with us and research the wonderful world of herbs and oils starting with Aswahandha, Ginger, Arnica, Devils Claw and the warming and cooling essentials that awaken our senses. 

Infused with non-comedogenic plant and seed oils, allowing the muscle rub to glide on smoothly and absorb easily while other oils linger long enough to deeply message sore muscles.

Since herbal muscle rub will be applied a few times per day as needed, ingredients of  oils suitable for combination skin types, with consideration to acne prone skin have been carefully considered. 

Our herbal muscle rub ingredients consist of infused oils along with cinnamon bark, cayenne, clove, red pepper and menthol. Essential oils of lemon, eucalyptus, camphor, lavender and peppermint contribute to the light warming and cooling effect on the skin. There is no concern for an overabundance of synthetic warming additives harsh or intrusive lingering aromas.

Organic yellow beeswax steels the show with a tightening feeling on sore muscles providing comfort in the localized areas. A warm sock, snuggly clothing, scarf, or soft stretchy bandage can be used to hold in the warmth and soothing sensation.

Directions: Apply a thin layer of muscle rub to the affected area no more than 3 to 4 times a day. Rub in gently and thoroughly. After applying the rub, wash your hands unless you are using the salve to treat the hands. Do not use on open skin or sensitive areas. Pregnant or nursing, ask a professional before use. If swallowed, seek medical attention.

Listing is for 1 container
Net wt. 2 oz. / 56 g.

Ingredients: Sweet Almond Oil (Prunus Amygdalus Dulcis), Coconut Oil (Cocos Nucifera), Avocado Oil (Persea Americana), Apricot Kernel Oil (Prunus Armeniaca), Jojoba Oil (Simmondsia Chinensis), Hemp Seed Oil Refined (Cannabis Sativa), Castor Oil (Ricinus Communis Seed Oil), Organic Unrefined Beeswax, Cinnamon Bark, Arnica Flower, Ginger, Goldenrod, Ashwagandha, Red Pepper, Clove, Cayenne Pepper, Devils Claw, Comfrey Leaf, Rosemary, Menthol, Essential Oils, Vitamin E, Phenoxyethanol (and) Caprylyl Glycol

DISCLOSURE: This content is for informational purposes based on collected study and extended self-testing. White Dormouse Artisan Soaps believes in the benefits of the ingredients added to create all bath and body products for skincare. We strive to create a more natural, milder way to care for our skin. Therefore, each ingredient has been fully researched. This information has not been evaluated by the Food and Drug Administration. If you are pregnant or nursing, please consult your physician before using any products including those with essential oils. If you have an allergic reaction or are sensitive to the ingredients in our products, please discontinue use. White Dormouse extends our product ingredients on our website and platform.

FRAGRANCES AND ESSENTIAL OILS
Fragrances and Essential Oils for all skin care products are handpicked carefully and taken into great consideration. All Essential oils are Certified Fair Trade, well measured and combined for a pleasant scent and therapeutic properties. Essential Oils are the natural essences of plants acquired by steam distillation or cold-expression from a single botanical source.