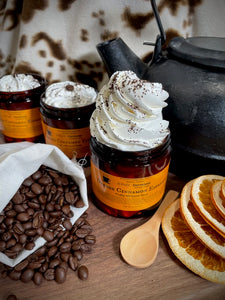 Orange Cinnamon Espresso Fluffy Whipped Soap
Orange Cinnamon Espresso Fluffy Whipped Soap

Meet me at the coffee shop! Orange Cinnamon Fluffy Whipped Soap is so indulging, you may find yourself reaching for a second cup of coffee just to keep that smile lasting a little longer. Coffee lovers tend to experience instant happiness at the thought of sitting in complete content, one sip at a time. Its been said, a coffee in hand will somehow result in the start of a very successful day. We have added our own personal blend of comforting aromas to our bath and body whipped soap with vanilla, sweet orange, anise, clove, nutmeg, cinnamon and patchouli. We are loving that coffee house espresso brew and just a few drops of hot cocoa for the chocolate lovers.

Orange Cinnamon Espresso Whipped Soap has a soft marshmallow texture creating lots of bubbles and fun to use by the kitchen, shower or bath. Topped with bits of coffee granules and dried orange zest. Let's take a look at all the beneficial ingredients nurtured by hydrating oils that are safe for acne prone and oily skin conditions. Don't forget to always consider your skin type and combination and make sure these oils are right for you. The ingredients are plentiful with glycerin, moisturizing deep into the skin locking in moisture.

Coffee, while used as a beverage, has gained a reputation for one of the most popular sources of antioxidants. Coffee Butter, extracted from roasted coffee beans, happens to be one of my absolute favorites along with Tangerine Butter, also an extraction from the peels of fresh tangerines and blended with non-GMO soy butter. These butters are roasted, crushed and mixed with soybean oil. Specifically made for normal, dry, chapped or sensitive skin. Perfect for skin hydration and protection from wetting and drying hands often. Naturally high in vitamin E, omega 3 fatty acids and other beneficial properties. Coffee and Tangerine Butter penetrate and re-hydrates the skin, spreads easily and locks in all that goodness.

Virgin Pumpkin Seed Oil adds that light nutty fragrance pressed and extracted from the seeds of the pumpkin. Packed with essential fatty acids, vitamins and antioxidants.

Hemp Seed Oil is perfect for all skin types, moisturizing without clogging pours. It helps to balance out oily skin and regulate oil production. Contributing to reducing signs of aging.

Camellia Seed Oil, helping to improve the texture and tone of the skin due to environmental elements.
Easily absorbed into the skin leaving it silky smooth while hydrating.

Other additives of rosehip and Jojoba oil supporting the balance of whipped texture by absorbing into the skin forming a barrier, locking in moisture and nutrients. High in vitamin E, Omega 3 and 6

A complimentary standard wooden spoon is included for sanitary use when scooping soap out of the jar. It's a very refined process and one that is quite indulging and enjoyable.

While they last, a cute little Pumpkin wooden spoon can be purchased in exchange for the standard wood spoon and will be added to your wrapped whipped soap for gift giving. Click on the item selection to add to cart.

Directions: Keep a decorative spoon available for sanitary use to avoid hands and water from entering the jar. Spoon a small amount of fluffy whipped soap onto a soft cloth or into the palm of your hand. Form a lather and wash your skin as normal. Rinse and pat skin dry with a luxurious towel. For external use only. Non-Edible

Net wt. 4 ounces Height 3" with lid, Width 3"
Listing is for 1 jar Filled to close lid comfortably. Standard Wooden Spoon included. Item is Gift Wrapped

Ingredients: Glycerin, Water, Sodium Cocoyl Isethionate, Sorbitol, Disodium Lauryl Sulfosuccinate, Stearic Acid, Sodium Chloride, Phenoxyethanol, Tetrasodium EDTA, Clay, Roasted Coffee Butter (Prunus Amygdalus Dulcis), Tangerine Butter (Citrus Reticulata Peel Oil (and) Hydrogenated Vegetable Oil, Virgin Pumpkin Seed Oil (Cucurbita pepo), Jojoba Oil (Simmondsia Chinesis), Hemp Seed Oil Refined (Cannabis Sativa), Camellia Seed Oil (Camellia oleifera), Rosehip Seed Oil (Rosa damascene), Optiphen (Phenoxyethanol and Caprylyl Glycol), Fragrance, Sweet Orange, Vanilla, Nerolina, Clove, Nutmeg, Ginger, Cinnamon, Anis, Patchouli Essential Oil

PRODUCT APPEARANCE
Each product is handmade with a specific recipe. Due to the nature of handcrafted products, color and variation may differ from the product photo. Although the details of each batch are made to be exact, no hand can duplicate twice. No measure of fragrance can produce the exact same color. With each day of curing creates the most magnificent design. For those who simply adore handmade, you will enjoy the natural qualities even more. The color of the product displayed on your computer monitor can also contribute to variations.

INGREDIENTS
White Dormouse Artisan Soaps are handmade with high quality oils, sparing no expense to provide the best natural soap experience. All soap recipes are listed with wholesome beneficial ingredients.

FRAGRANCES AND ESSENTIAL OILS
Fragrances for all bath and body products are handpicked carefully and taken into great consideration based on what you may enjoy. Essential oils are well measured and combined for a pleasant scent and therapeutic properties.

WARNING
White Dormouse Artisan Soaps are created to appear not only elegant, fun and foodie, but also NOT TO BE INGESTED. KEEP AWAY FROM SMALL CHILDREN UNSUPERVISED AS ANYONE MAY BE TEMPTED TO TASTE. ALWAYS TEST ON A SMALL AREA OF THE SKIN BEFORE USE.