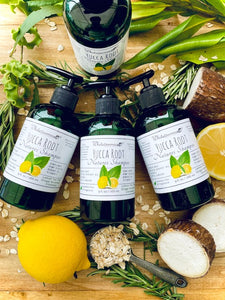 Yucca Root Liquid Shampoo Lemon Tea Tree Ginger Rosemary Citronella
Yucca Root Liquid Shampoo Lemon Tea Tree Ginger Rosemary Citronella
Hair growth starts at the scalp so why not reflect on a shampoo that assists in regenerating skin cells, stimulates hair growth, reducing inflammation, itchiness and boosts volume leaving your hair clean, shiny and healthy. The Yucca root is a starchy root vegetable high in vitamin C, potassium and folate (vitamin B) and has been used in alternative remedies as far back as the Native Americans.
The ingredients of the Yucca root contain Saponins which are foaming properties with antibacterial qualities. They occur naturally in the health benefits of plants so why aren't we concerned about what makes all those bubbles in our store-bought shampoos? Not only does the Yucca Root contribute to natural cleansing, but the saponins are known for guarding your body against bacteria and viruses.
Any type of shampoo that will be incorporated with water must touch your skin, scalp and face. The carrier oils, butters and other ingredient choices rank 86 % non-Comedogenic (0 to 2 scale) meaning anyone susceptible to acne breakouts or clogged pores can feel comfortable. This includes glycerin, oatmeal and aloe. While Avocado and Coconut oil are the two remaining, weighing in at (3 and 4) out of a number 5 system for scalp and skin types that are dry. These oils provide omega-9 are very hydrating, and have antibacterial qualities.
Our Yucca Shampoo ingredients are filled with vitamins, minerals, fatty acids, antioxidants, proteins and antiseptics. Easy to read and understand, abundant with additives of Ginger Root, Glycerin, Oatmeal, Vitamin E and other beautiful qualities only the earth provides.

When scalp and hair conditions occur due to normal every day maintenance, illness, medicines, nutrition, aging and genetics, it can be so disheartening for anyone. It may be time to find that perfect balance by changing the hair products we are using to more natural, grounded ingredients we can trust and understand. With family members that have fine, thin hair and those that have suffered with cancer, I appreciated their honest input on how the Yucca Root Shampoo supported and encouraged an increase in fullness, body and growth after several uses.
Made with 100 % essential oils for medicinal qualities and aromatherapy. Lemon helps to balance oils preventing infection and providing a clean citrus aroma. Tea Tree oil with antiseptic and anti-inflammatory benefits. Ginger essential oil recognized for stimulating hair growth, controlling dandruff, and strengthening. Rosemary with an herbal aroma, improving circulation, increasing blood flow to the scalp and Citronella with its lemongrass flavor fighting infection, crisp citrus qualities, cleansing and conditioning, eliminating excess greasiness adding volume, detangles, and antifungal properties.
Since the liquid Yucca Shampoo will be used so close to the face, we appreciate the awareness of those that experience and suffer health conditions such as headaches, dizziness, allergies, nausea and asthma all triggered from perfumed soap with fragrance or essential oils If skin irritation or allergies to product occur, discontinue use. Refer to our unscented shampoo.
Did you know the Yucca plant may actually be growing right under your nose and we may have never known it's wonderful uses until today? So many are skeptical about using handmade soap to wash their hair. It's far too convenient and possibly less expensive to use a liquid shampoo from the grocery, pharmacy or hair salon, but do we actually know what's in it?
Directions: Wet hair with warm or comfortably hot water. Gently work the shampoo into the hair creating a thick lather almost instantly. Leave shampoo on hair for three minutes to allow astringents to stimulate the scalp. Rinse with cool water to seal in the hair cuticle and pores adding luster and shine.
We have been overjoyed with the reviews from customers that have tried the Yucca shampoo soap bars and would like to offer the convenience of liquid shampoo. Our handmade soaps are made in small batches and tested so we may stand by our research in order for you to feel confident as well. Frequent use will form the best results for your hair type. Ingredients are as natural as we can provide with colorants of plants and root proteins. Essential oils in our products are often used for healthy benefits. The liquid Yucca Shampoo does not dull or fade colored hair even with hard water use. Keep shampoo bottle away from direct pounding water as our labels are handmade and not printed on the bottle directly.
Listing is for 1 Liquid Shampoo Bottle 
9 fl. oz. / 266 ml.
Ingredients: Distilled Water, Infused Yucca Water, Aloe Vera Juice (Aloe Barbadensis Leaf Juice), Potassium Hydroxide, Coconut Oil (Cocos Nucifera), Olive Oil (Olea europaea L.), Avocado Oil (Persea Americana), Castor Oil (Ricinus Communis Seed Oil), Glycerin, Babassu Oil (Orbignya oleifera), Mango Seed Butter (Mangifera Indica), Ginger Root Infused Apricot Kernel Oil (Prunus Armeniaca), Rice Bran Oil (Oryza sativa), Hemp Seed Oil Refined (Cannabis Sativa), Sunflower Oil (Helianthus annuus), Yucca Root (Manihot esculenta), Borage Oil (Borago officinalis), Sodium Lactate (Propanoic acid, 2-hydroxy-, monosodium salt), Oatmeal, Apple Cider Vinegar, Vitamin E, Propylene Glycol (and) Diazolidinyl Urea (and) Iodopropynyl Butylcarbamate, Lemon, Tea Tree, Ginger, Rosemary, Citronella Essential Oil
DISCLOSURE
This content is for informational purposes based on collected study and extended self-testing. White Dormouse Artisan Soaps believes in the nutritional benefits of the ingredients added to create all bath and body products for skincare. We strive to create a more natural, milder and healthier way to care for our skin. Therefore, each ingredient has been fully researched and has been used in alternative remedies for generations. This information has not been evaluated by the Food and Drug Administration. The benefits and use of herbs, oils, and natural ingredients are not meant to substitute the advice of your Doctor or health professional nor are they intended to be construed as medical advice to diagnose, treat, cure health problems or diseases. If you are pregnant or nursing, please consult your physician before using any products including those with essential oils. If you have an allergic reaction or are sensitive to the ingredients in our products, please discontinue use. White Dormouse extends our product description on our website and platform including ingredients for your health, safety happiness.

WARNING
White Dormouse Artisan Soaps are created to appear not only elegant, fun and foodie, but also NOT TO BE INGESTED. KEEP AWAY FROM SMALL CHILDREN UNSUPERVISED AS ANYONE MAY BE TEMPTED TO TASTE. ALWAYS TEST ON A SMALL AREA OF THE SKIN BEFORE USE.